Before we discuss AMSOIL motorcycle oil, the best oil for air cooled motorcycle engines, it is important to understand the exact function of the motor oil. AMSOIL motorcycle oil is designed to first protect critical engine parts against premature wear and to guard against the rough effects of high temperatures by acting as a coolant. It must fight against unwanted deposits, which if left unchecked, can lead to a loss of power and engine efficiency. The oil must be engineered to be thermally stable and resist oxidation.
In simple terms, oxidation actually means a chemical breakdown of the oil and additives. The faster that oil is broken down, the faster it loses its ability to protect against unwanted deposits and wear. If the environment is so severe that the oil loses its natural ability to protect, then it is imperative that the oil be changed quicker, which results in a total waste of time and money.
What Is An Air Cooled Motorcycle Engine?

Let's take a look at an air cooled motorcycle engine. Specifically, let's look at Harley Davidson's* Air Cooled V-Twin engine. Without a doubt, these engines can get extremely hot. How hot you ask? Well, in a specific test conducted in a mechanical lab on a 2012 Harley Davidson* Street Bob*, cylinder temperatures actually reached an incredible 383 degrees F. When comparing this engine to a liquid cooled 2017 Indian* Scout motorcycle that was tested the same way, cylinder temperatures on average ran at 200 degrees F.
As you can see there is a huge difference between air cooled and liquid cooled motorcycle engines. As you can imagine, such an air cooled motorcycle engine requires a specialty engine oil designed to withstand above normal temperatures that a conventional engine oil simply cannot withstand. Heat this high can destroy a motor oil quickly. This extreme heat can take a 20W50 motorcycle oil, thin it out to the point that it loses its viscosity, and change it into a 10W40 or worse oil.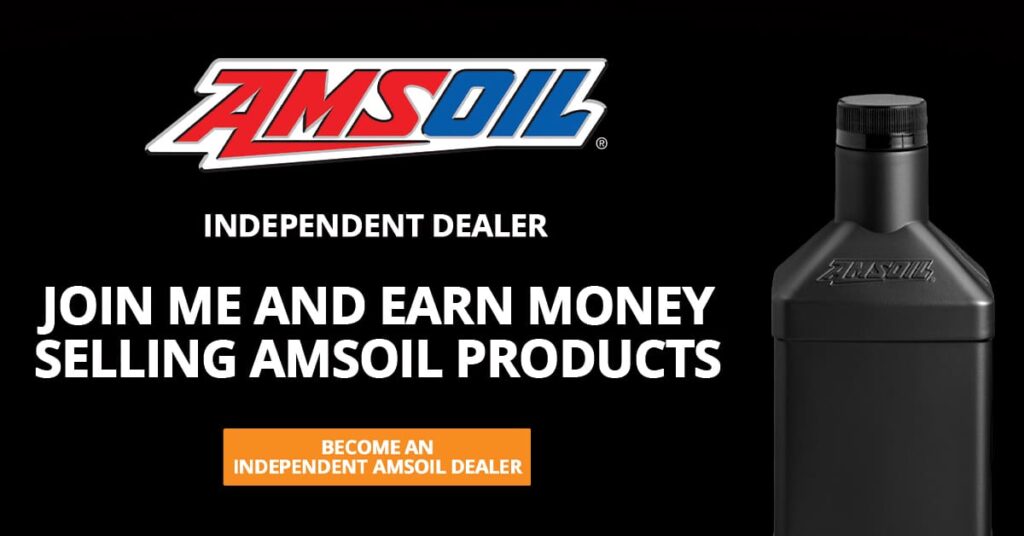 When an air cooled motorcycle engine is specifying a thicker viscosity 20W50 for maximum protection against wear, then the expectation is for the oil to be strong enough to withstand withering heat. If the oil is not strong enough to stand up to extreme heat and thins out, then that engine will be poorly protected against premature parts wear caused by the oil thinning out and losing its proper viscosity. Additionally, extreme heat conditions can accelerate chemical breakdown.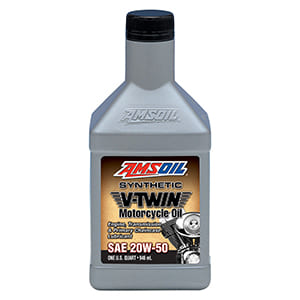 Here is a scientific fact. For every 18 degrees F increase in oil temperature, the rate of oxidation is doubled. In other words, the life expectancy of oil is cut in half for every 18 degrees increase in temperature. Knowing how critical it is for an oil to be able to withstand extreme heat, it is vital that the best possible engine oil for air cooled motorcycle engines is chosen. An AMSOIL motorcycle oil is designed to be thermally stable and handle any heat generated by an air cooled motorcycle engine. AMSOIL 20W-50 Synthetic V-Twin Motorcycle Oil is the best motorcycle oil for a Harley Davidson* Air Cooled V-twin engine.
What is the Best Oil for Air Cooled Motorcycle Engines?
Let's take a look at a specific AMSOIL motorcycle oil that is custom blended for V-Twin motorcycles. AMSOIL Synthetic V-Twin Motorcycle Oil is engineered utilizing synthetic base oils that are heat-resistant. This added resistance to high temperatures gives it superior protection no matter how tough the riding conditions. It offers stay-in-grade viscosity, no matter how extreme the heat. It is also extremely resistant to the shearing force of transmission gears that are trying to cut the oil's molecular structure. In other words, this AMSOIL motorcycle oil is extremely shear-stable.
This AMSOIL motorcycle oil is resistant to foaming. Air bubbles can appear, and if air bubbles create too much foam, the foam acts as an insulator, trapping heat. If heat is trapped and not dissipated, temperatures can rise and cause a breakdown. For air cooled motorcycle engines, it is critical that the oil is tough enough to cool and lower engine temperatures.

At the end of the day, the best oil for air cooled motorcycle engines is the one that is designed to properly deal with the unique challenges of such an engine. The best choice will be an AMSOIL motorcycle oil that is specifically engineered for such a motorcycle engine, such as AMSOIL's Synthetic V-Twin Motorcycle Oil.
*All trademarked names and images are the property of their respective owners and may be registered marks in some countries. No affiliation or endorsement claim, express or implied, is made by their use.