If you're in search of the best synthetic differential gear oil, then this blog post will present an excellent candidate for you to utilize in your vehicle.
One of the premier synthetic lubricant manufacturers, AMSOIL, considered a trailblazer in this industry, offers one of the finest gear oils for differentials. The AMSOIL SEVERE GEAR® line of EP gear lubes can offer the type of protection and performance that will transform your hard-working differentials into a more efficient gear system.
It is available in five different viscosities. They are as follows: 75W-90, 80W-90, 75W-110, 75W-140, and SAE 250 (racing.)
SEVERE GEAR® is a 100% pure synthetic extreme pressure (EP) gear lubricant. This AMSOIL gear oil product line was engineered to cope with extreme operating environments that many heavy equipment SUVs and pickup trucks, plus other heavy-duty vehicles, are exposed to.
Why is AMSOIL SEVERE GEAR® the Best Synthetic Differential Gear Oil?
AMSOIL set out to create a gear lubricant that would surpass industry standards and outperform other competitive gear oils. The focus was to formulate a gear lube that delivered the ultimate performance in the most extreme applications.

It was imperative that these heavy-duty gear oils would maintain consistent viscosity over long durations of use so as to provide the necessary protection against metal-to-metal contact.
AMSOIL chemists created an exclusive and proprietary additive package that goes to work within differentials to create an iron sulfide protective barrier on the gear surfaces. This unique iron sulfide film helps to absorb the impact of moving parts and delivers superior protection against scoring, pitting, and wear.
AMSOIL's SEVERE GEAR® lubricant offers superior protection against "thermal runaway." Thermal runaway is an anomaly that is created by a gear lubricant's failure to minimize heat and friction when exposed to extremely stressful operating environments.
Due to SEVERE GEAR®'s ability to greatly reduce any thermal runaway, this 100% synthetic differential gear oil will vastly minimize any degradation of the lubricant and also reduce component wear, thus improving equipment performance and extending parts life.
Protecting Gears Over a Wide Temperature Range
AMSOIL's SEVERE GEAR® lubes offer superior protection over a vast range of operating temperatures. When differentials are exposed to extremely hot conditions, the 100% pure synthetic base stocks, coupled together with a high-performance additive package, provides your vehicle with gear oil that is second to none.

It will withstand extremely high levels of heat, which will guard against the formation of any damaging acids, plus reduce the potential of any varnish or carbon deposits. When your differential is exposed to brutally cold weather, the use of 100% pure synthetic base stock oils that are free of wax will definitely deliver amazing cold-weather performance. Energy loss and drag will be reduced, maximizing power.
This gear lubricant offers superior cold-weather flowability and enhanced cold temperature shifting, which ultimately will save you money due to enhanced fuel economy, fewer instances of component wear, and more efficient performance.
Synthetic Oil vs. Conventional Oil
When engineering SEVERE GEAR®, AMSOIL set out to offer the best synthetic differential gear oil that performed way beyond what conventional gear lubes could provide. The goals were met and outstanding protection is provided for bearings and gears, a reduction in wear can be expected, and temperatures will be reduced. Altogether, these benefits will bring longer service life, more efficient performance, and savings in dollars through better fuel economy, fewer repair costs, and less downtime.
If you're looking for a top-of-the-line gear oil that can be used in a broad range of applications, then AMSOIL's 100% pure synthetic extreme pressure gear oil known as SEVERE GEAR® is the perfect choice. Here is a list of areas that are considered extreme applications where this line of high-performance gear oils will deliver second to none performance:
steep hill driving
towing
plowing
off-road use
hauling
commercial use
rapid acceleration
extreme high temperatures
stop and go operation
Specifically, here are some of the high horsepower extreme duty vehicles that AMSOIL SEVERE GEAR® will deliver incredible protection and performance for: severe service SUVs, pickups, and utility/delivery vehicles. Some other extreme duty vehicles would include race cars, 4X4s, light, medium, and heavy-duty trucks, heavy equipment, buses, motor homes, tractors, and tow trucks.
Here are some key performance benefits one can expect from AMSOIL SEVERE GEAR® lubricants:
delivers lower operating temperatures.
guards gear systems against corrosion and rust.
minimizes thermal runaway.
prolongs seal, oil, and parts life.
provides superior efficiency.
high-performance protection by reducing wear, even if exposed to water contamination.
Longer Drain Intervals for Gear Oil
When determining the gear lube's service life in differentials, it is advised to read the vehicle's owner manual or check with the original equipment manufacturer (OEM) to determine whether the differential's application will be a normal service or severe service.
For a gear oil's normal service life for light trucks, SUVs, and cars, it is best to drain the gear oil when it reaches 100,000 miles of service or following what is established in the vehicle's owner manual, whichever is longer. If these three categories of vehicle's service life are determined to be severe, then consider draining the gear lubricant when it reaches 50,000 miles of service or following what is stated in the owner's manual, whichever is longer.
For determining the lubricant's service life for heavy-duty Class 8 long haul vehicles, when using synthetic oil, follow the drain interval guidelines of the vehicle's manufacturer, depending on whether they state miles or hours. Drain the synthetic oil up to 250,000 miles or three years, whichever comes first.
When determining the drain interval for vocational/delivery vehicles, follow the OEM's recommendations for a 100% synthetic oil that goes up to 120,000 miles or 3 years, whichever comes first.
Finally, for heavy-duty off-road vehicles, follow the OEM drain interval guidelines, depending on whether they state miles or hours, for synthetic oil that goes up to 100,000 miles, or two years, whichever comes first.
When determining the gear lubricant's service life for non-differential applications, read the vehicle's service manual, depending on whether the service is severe or normal for synthetic oil service intervals. If these service drain intervals are unknown, then for AMSOIL's SEVERE GEAR® lubricants, establish a drain interval two times longer than for conventional gear oils.
If the operating conditions for the gear oils are dusty and dirty, then it is advised that the gear oils be changed sooner. The exception would be if the gear system is equipped with membrane-type breathers and the system sufficiently seals out dirt and dust.
If water contamination occurs, then it is not advised that gear oil drain intervals be extended. If water contamination becomes a real possibility, then the gear oils should be changed more often.
Best AMSOIL Gear Oil Viscosity Choices
Let's now look at each specific AMSOIL SEVERE GEAR® viscosity and provide some of the basic features for each.
The 75W-90 SEVERE GEAR® can replace any competitive 75W-90 or 80W-90 gear lube. This 100% pure synthetic gear oil is AMSOIL's #1 rated gear oil in providing the best possible fuel economy and cold-weather performance. It will give outstanding all-around performance and will outperform any conventional gear oil.
Next, AMSOIL's 75W-110 SEVERE GEAR lube is an excellent competitor's replacement for 75W110, 75W90, and 80W90 gear lubes. For those requiring a step up in terms of viscosity protection over the SEVERE GEAR® 75W-90, then this gear oil would be the better choice.
AMSOIL's 75W-140 is the correct choice for those OEMs that require either a 75W-140, an 80W-140, or 85W-140 gear oil. When operating conditions are considered extremely severe duty and demand a higher viscosity lubricant, then AMSOIL's SEVERE GEAR® 75W-140 is the proper choice.
For those whose gear systems require an 80W90, then AMSOIL's 80W90 SEVERE GEAR® oil is the perfect replacement for any competitor's 80W90 gear lube. Like all of the SEVERE GEAR® lubricants, they were specifically engineered to surpass OEM requirements for transfer cases, manual transmissions, rear and front differentials, transaxles, steering gearboxes, and oil-lubricated wheel bearings.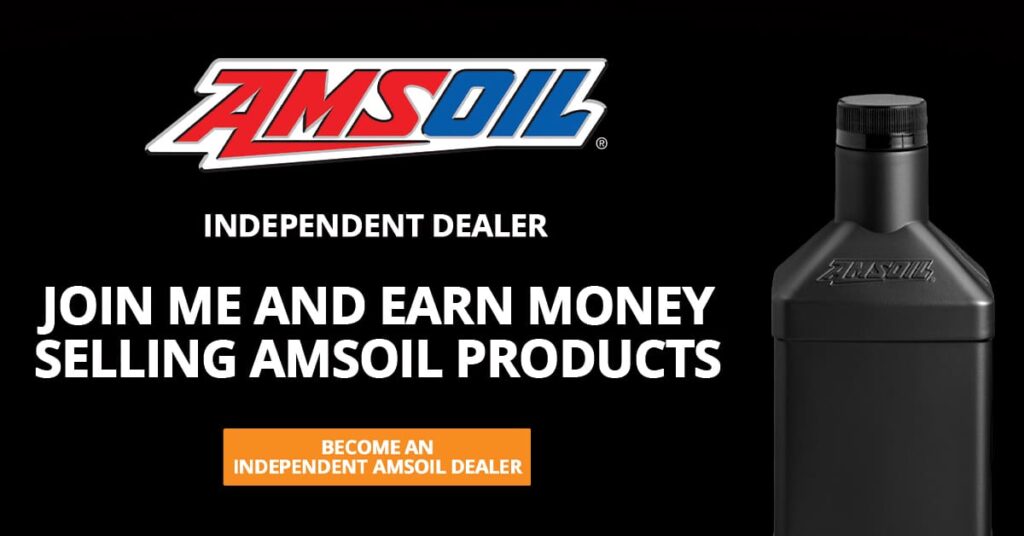 The synthetic base oils and the additive package of AMSOIL's SEVERE GEAR® lubes are fully compatible with any other synthetic or conventional gear lubricants. Still, if AMSOIL's gear oil is mixed with other gear oils, then the oil service life and performance benefits will be diminished.
AMSOIL will NOT SUPPORT OR RECOMMEND longer service drain intervals when different oils have been mixed with AMSOIL's unless AMSOIL provides a specific recommendation. AMSOIL also does not recommend any additional oil additives or treatments to be used with AMSOIL's gear oil.
SEVERE GEAR® is compatible with almost all limited-slip differentials and is the best gear oil for limited-slip differentials. For those specialized applications that may need an additional limited slip friction modifier, then it is OK to treat with AMSOIL Slip Lock Additive.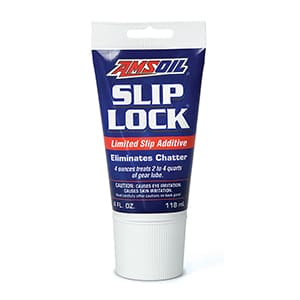 Benefits of AMSOIL Slip Lock
AMSOIL Slip Lock® Differential Additive (ADA) has been developed with proprietary friction modifiers to minimize gear-housing chatter in vehicles fitted with clutch-type limited-slip differentials.
AMSOIL Slip Lock Differential Additive is designed to securely replace manufacturer-suggested friction modifiers in both petroleum and synthetic gear lubricants. Its easy-to-apply squeeze-tube packaging allows for convenient and straightforward application to the gear housing.
Slip Lock comes in a four-ounce tube that handles differential capacities ranging from two to four quarts. It should not be used in automatic transmissions or other systems that call for automatic transmission fluid.
Formulated with sophisticated friction modifiers.
Assists in the elimination of gear housing chatter.
Recommended for trucks, cars, and SUVs.
*All trademarked names and images are the property of their respective owners and may be registered marks in some countries. No affiliation or endorsement claim, express or implied, is made by their use.