Available in two viscosities
Synthetic Diesel Oil SAE 0W-20 is specifically formulated to protect the efficient diesel power of American diesel pickups, vans, cars and SUVs, giving you the edge to keep your vehicle operating at peak performance.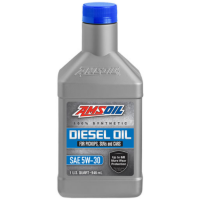 Synthetic Diesel Oil SAE 5W-30 keeps metal surfaces separated, while its robust anti-wear additives further reduce wear in metal-to-metal contact regions for maximum engine life. Third-party testing shows AMSOIL 100% Synthetic Diesel Oil delivers up to 6X more wear protection.