Shock Therapy Suspension Fluid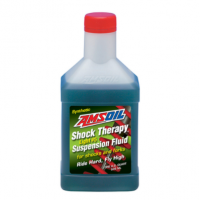 Controls friction, heat, wear, foaming and scuffing in suspension components. High viscosity index and shear-stability controls shock fade and inconsistent dampening in temperature extremes.
AMSOIL Shock Therapy Suspension Fluid is formulated to make suspension systems more predictable. Its base oils have inherently high viscosity indices that effectively maintain viscosity, while its anti-foam agents reduce aeration and foam.