When having to choose the proper oil for diesel tractor engines, it is best to check the owner's manual for each tractor.
Please note that oil for diesel tractor engines has been re-specified to meet new government standards for emissions and fuel efficiency. Your manuals may not be up to date, so you might need to grab your equipment's serial numbers, model numbers, and ask your dealer what is the latest diesel engine specifications for your equipment.
Because of the recent fuel efficiency and emissions requirement standards, diesel engine oils have the CK-4 specification. This new specification offers formulations that can withstand the much higher operating temperatures created by the latest generation diesel engines that have been engineered to operate more efficiently and cleaner.
Determining the Best Oil for Diesel Tractor Engines
Your first step is to determine the age of each piece of equipment in your fleet. The latest CK-4 specification has been designed to be compatible with all diesel engines, which would include older tractors. This means that a diesel engine with an American Petroleum Institute designation of CK-4 is backward compatible with CJ-4, CI-4 Plus, CI-4, & CH-4 diesel engine oils. Typically, you'll have access to the same viscosities or SAE grades you have used in the past, such as 15W40, 10W30, SAE 30, etc.
The next area to consider in choosing oil for diesel tractor engines would be whether you decide to use conventional (petroleum) or 100% full synthetic. The difference between the two is fairly obvious. Petroleum-based oils have the longest history and if we needed to grade from average to best, petroleum rates as "average." 100% full synthetic could be considered the "best."
The Benefits of 100% Synthetic Engine Oil
For the sake of this blog post, we've decided to choose a 100% synthetic engine oil. In terms of value and benefit for the money invested in such a lubricant, a 100% synthetic diesel tractor engine oil brings you the best benefits. By using the finest quality 100% synthetic base stock oils, you end up with a diesel engine oil that can deliver superior wear protection, can extend drain intervals, will provide increased fuel economy, and will reduce friction.
As an example, a superior 100% synthetic diesel engine oil for tractors will contain a careful balance of high performance additives, perfectly formulated with the proper 100% synthetic base stock oils. When the temperature is cold during startup and during wintertime temperatures, utilizing an engine oil containing synthetic base stocks will aid in having oil that circulates through the engine quickly. Dry starts are where most of the engine wear occurs, so a 100% synthetic diesel engine oil vastly reduces wear during dry starts. This feature alone is enough reason to choose a synthetic diesel engine oil over a straight conventional diesel engine oil.
The flip side to cold weather or cold temperature lubrication operation would be how an oil manages high-temperature environments. A top tier synthetic diesel engine oil that is being presented in this blog post utilizes base oils that are thermally stable, contain the best antioxidant additive chemistry, and contain the best anti-friction modifying chemistry. This advanced chemistry works together synergistically by providing the correct high-shear viscosity / high-temperature balance. You can also expect fuel economy improvements.
Let's take a look at a specific 100% pure synthetic oil for diesel tractor engines manufactured by AMSOIL.
If you're looking for extra protection for your diesel tractor engine, then AMSOIL Signature Series Max Duty Synthetic Diesel Oil will deliver 6 times more protection against wear than conventional oil. Signature Series will help maintain peak horsepower and performance, will improve fuel economy, help to maintain compression, will reduce any oil consumption, and will reduce wear for both cylinder liners and rings.
AMSOIL Signature Series Max Duty uses the finest synthetic base stock oils that have a very low rate of burn-off or volatility. This low rate of volatility helps to reduce oil consumption during engine operation, which leads to a lower amount of oil vapor finding its way into the combustion chamber. Independent tests have shown that Signature Series can deliver up to 76% less oil consumption than as specified by the API CK-4 standard when tested in the Caterpillar 1N Oil Consumption Test. By consuming less oil, your engine and oil last longer and you save money.
Through the use of the finest 100% synthetic base stock oils, Signature Series Diesel Oil is thermally stable and will resist heat or thermal breakdown far better than any conventional/petroleum or competitive synthetic diesel oil.  Unlike petroleum oils, Signature Series Synthetic Diesel Oil contains no wax, which means during cold temperatures, the oil stays fluid and provides much easier starting, superior oil flow, and a reduction in wear.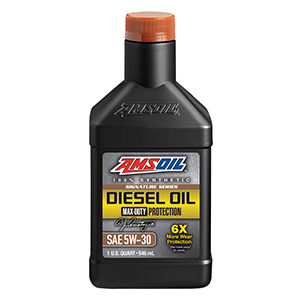 When AMSOIL decided to make the finest synthetic diesel engine oil, they only considered the absolute finest synthetic base stock oils. Because of the superior quality of the synthetic base stocks found in Signature Series Max Duty Oil, it is extremely resistant to oxidation. Also, it is resistant to the thickening effects of soot contamination. Additionally, AMSOIL chemists have blended in a robust detergent/dispersant additive package that keeps soot particles in suspension independently, thus going a long way towards preventing any formation of wear causing particles.
This unique and high performance formulation is engineered to minimized any viscosity increase plus soot related wear is under control. Due to its thermal stability, Signature Series retains its viscosity even during extremely high temperature service. This premier synthetic diesel tractor oil will deliver the absolute best in engine protection and efficiency.
We've tried to offer some basic insight in regards to choosing the best oil for diesel tractor engines. You have choices and technical data to think about and compare. You have choices in the types of oil to use and hopefully, we've shed a little light in helping you make the right decision that could lead to longer equipment life and more profits for your operation.