Heavy-Duty Synthetic Diesel Oil
Available in three viscosities
Heavy-Duty Synthetic Diesel Oil 5W-40 is formulated for hardworking equipment. It is engineered to provide 4X better wear protection1, giving you the edge to keep trucks and equipment operating at peak performance. 
Heavy-Duty Synthetic Diesel Oil 10W-30 is formulated to deliver improved heat and oxidation resistance compared to conventional diesel oils. It provides clean engine operation and helps maintain power and fuel efficiency.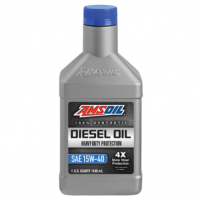 Heavy-Duty Synthetic Diesel Oil 15W-40 has a low rate of volatility (burn-off), reducing oil consumption during operation and passing less oil vapor into the combustion chamber. It provides up to 66 percent less oil consumption than required by the API CK-4 standard.