Available in five viscosities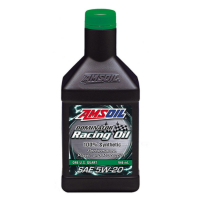 DOMINATOR® 5W-20 Racing Oil Provides superior performance and maximum protection in high-performance and racing applications. DOMINATOR is engineered from advanced synthetic technology to better withstand the elevated rpm.
DOMINATOR® 10W-30 Racing Oil is designed to provide maximum horsepower without sacrificing engine protection. DOMINATOR provides straight-grade protection in a multi-grade formulation.
DOMINATOR® 15W-50 Racing Oil is formulated with a proprietary friction modifier to reduce energy lost to friction. It delivers maximum horsepower and cooler engine temperatures, promoting improved lap times and longer-lasting components.
DOMINATOR® SAE 60 Racing Oil provides maximum protection in temperature extremes. Its low pour point offers excellent start-up protection and provides less drag when the oil has not reached stable operating temperatures.
DOMINATOR® Synthetic 2-Stroke Racing Oil directly addresses the heat, pressure and friction of race-engineered engines. These engines operate on the edge, yet engine reliability is critical. DOMINATOR does an outstanding job protecting high-performance engines.